We've all got smart phones for various reasons, one of them being to make phone calls but with the dawn of 3G/4G and all the goodness that came with it, our phones can do so much more. One of which is serve as a GPS. Now as most phones with small screens weren't the best for this feature it helped out none the less. The GPS apps gave you the bare minimum which is, location, directions, navigation, places of interest and speed limits but what if it could offer you more? How you may ask? Yes there are other things such as speed traps and traffic notifications but imagine if you could edit your GPS and add more info on certain places and share it with others also you could see what others had to share about other places.
That's what Nokia HERE is all about, they call it a "location Cloud" and here's what Nokia's CEO Stephen Elop had to say:
"
People want great maps, and with HERE we can bring together Nokia's location offering to deliver people a better way to explore, discover and share their world.
Additionally, with HERE we can extend our 20 years of location expertise to new devices and operating systems that reach beyond Nokia. As a result, we believe that more people benefit from and contribute to our leading mapping and location service."
Sounds interesting and it does get better, Nokia has worked with Mozilla in developing HERE, they are one of the leaders in HTML5 and web development applications and key to that is location, Vice President of Products, for Mozilla Jay Sullivan had this to say: "
We are excited to work with Nokia as the combination of Firefox OS and HERE's location platform provides rich possibilities for mobile application developers to create amazing experiences for users."
Navigating around in 2D is one thing but what if you had the benefit of exploring a location in 3D? With HERE that would be possible as Nokia is planned to acquire Berkely, Calif company "earthmine" who's reality capture and processing technologies will become integral in HERE's 3D map making capabilities.
Now I know what you thinking, pretty impressive but I wont buy a Nokia so I wont be using this application but that's where you wrong. Nokia are making this software available for the 2 major giants in the mobile industry, that being Apple and Andriod. With the flop that was Apple maps on iOS6, HERE will be a welcomed relief to those with iPhones and it should be available to download on iTunes pretty soon if not already. The Andriod uses on the other hand will have to wait until 2013 to try it out. The reason for this is
it is aimed at enabling partners to create location-based applications for Android or Apple devices with Nokia's leading content.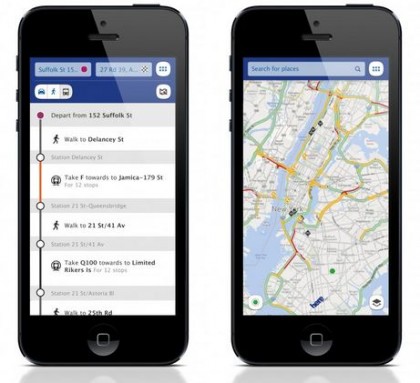 Just when you thought you heard it all, like a TV infomercial ...but wait, theres more! Imagine you walk down a street, see a rather interesting building but want to know more about it. What if I told you, all you had to do was pick your phone up and with your camera point to the building and all the info on it will be brought up on your phone? Cool right? Well that's what
LiveSight™
is all about.
As part of its announcement, Nokia introduced LiveSight™,
a technology based on a highly accurate, 3D map of the world. LiveSight™ provides the most precise and intuitive augmented reality experience and uses a phone's camera viewfinder to make discovering the world as easy as lifting up a phone.
Nokia City Lens, which was developed exclusively for Nokia Lumia devices, is the first application providing a LiveSight-enabled experience.
"Establishing a new brand is the right move for Nokia in the map and location business. Nokia's assets in this space are world class. We believe mapping and location will be increasingly important to developing next generation devices and services across a wide array of segments
," said Crawford Del Prete, executive vice president and head of worldwide research at IDC.
I know most people think Nokia had its hey day and now its just a dying brand but I've been using my Lumia 800 for roughly 7 months now and to say I'm impressed is an understatement, sure there is a few things that they could do to improve it but the same could be said for many other devices. Also with them using the Windows 8 OS in the newer models it could prove key for businesses that use Microsoft for easy synchronisation. It will take time for them to get back into the market but don't right them off just yet.